the dentist. ewe. scary. what's that you say? your dentist is your daddy? ...is that better or worse? apparently, this little guy is not impressed either way.
...just give me all our toys. now.
so, instead of terrorizing the pediatric patients with a one year old dentist, we escaped to schenley park. even if there was still snow on the ground.
we've been escaping to parks a lot lately. we've been pining for this beautiful weather for months, and every time the weather gets above 50 degrees, we grab the keys, and head out. we drove down to spend a morning at the point park, but it's closed down due to construction, so instead we explored the fort pitt block house. it's the only remaining building from fort pitt, and I felt historical just standing inside. :)
while I was listening to the guide, the deej and mack were playing in the snow. see their cute little foot prints right next to each other?
mack also discovered the ducks. they liked each other. so much, in fact, that they shared a tootsie roll with him, and he nearly plopped it in his mouth. dj dove like a seasoned football player, and just made the save before the non-tootsie-roll ended up in his mouth. sick. sick. sick.
but, by far my favorite moment of the day came just sitting and watching dj and mack play chase. check out their cute little game: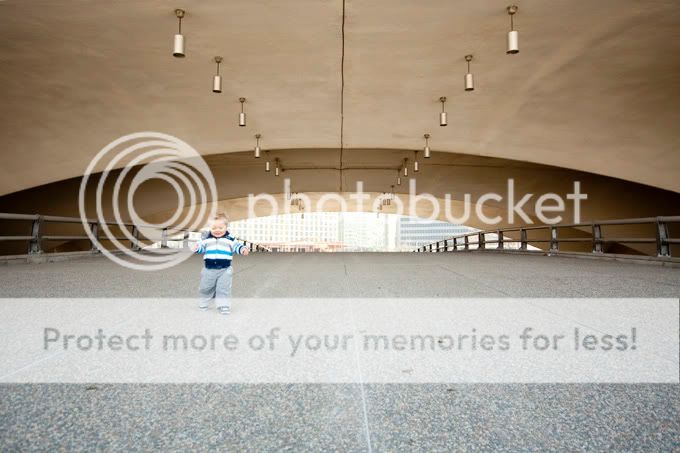 my heart is happy just looking at his cute little smile. it almost makes me want to sneak into his room and wake him up just to snuggle. only, I would never, ever do that. he would never, ever go back to sleep. and I love my sleep.
and the last picture of the day: my cute hubby. I made him sit in front of the camera, and he did it without much complaining, although I could see the thoughts coming out of his eyes. he loves to have his picture taken. almost as much as he loves having an ice pick stuck in his eye. almost. and, he hates loves this picture so much. so, here you go. isn't he the cutest?