if you know me, you know I think birthdays are a big deal. combine that with the fact that I am ridiculously sentimental, and you come up with a birthday party I spent way too much time and energy on, considering my child won't even remember it. but, in the end, I'm glad we did it.
**be warned: this post is meant to be super detailed so family members who couldn't be here can get an idea of how it all went down. I won't be offended if you get bored.**
here is mr. macko's birthday week, starting with the actual day:
October 27th
first of all, I was in and out of tears all day long. how can my baby be one already? secondly, all day long, I kept telling DJ, "we were doing _____ right this minute last year." so, we decided to drive to the hospital and take a picture of mack in front of the hospital the exact minute he was born. here you go. welcome to your first year mack.
no actual celebration that day, but mack did have a little bite of pumpkin roll. he loved it. look at the kid, is anyone surprised?
October 28th
spent the day making these super easy, inexpensive tissue paper puffs for mack's party. cute, no?
October 29th
went over to a friend's place to help with these. a million thanks to elise who made the cake pops, and let me come over to help dip and decorate them. I think they turned out so, so cute. she found the idea, picked up all the ingredients, and prepared everything. they were a hit! thanks again, elise!!
October 30th
*photo taken by deej*
all dressed up for the ward trunk or treat. honestly, he is the cutest dalmation ever.

October 31st
the party...
after a slightly hectic morning (went five different places to find dry ice for homemade rootbeer, couldn't find it anywhere, ended up buying jones soda instead.) and no sleep the night before due to a cake catastrophe (completely ruined the first cake, and started over at 1am), the party was ready to go. a huge shout out to keri who came up with the concept for the whole party. I'm lucky to have super creative friends. :)
the invites (wrapped around a jones soda bottle like a label):
along with the cake pops and tissue paper puffs above, here are the other parts of the food table: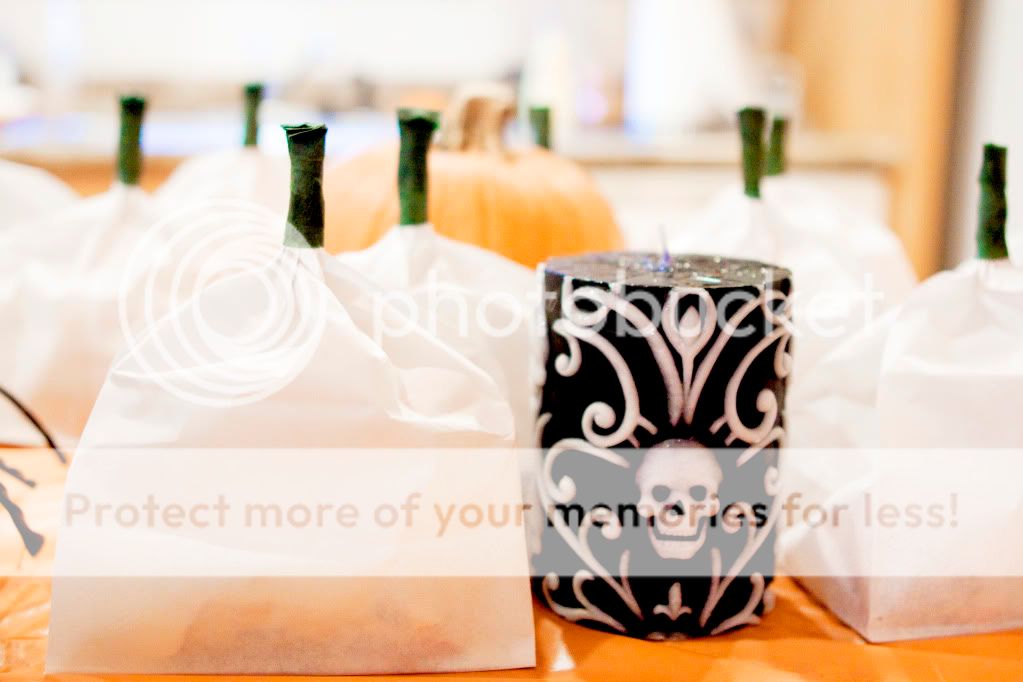 white "pumpkins" filled with candy
the above mentioned jones soda.
millions of spider cupcakes
the cake. don't judge. next year I'm ordering one from a bakery. I was not made to decorate cakes.
somehow I didn't get a picture of the whole table. so, I've included my 'pre-game' sketch to help you visualize where everything was. the giant pumpkin on the right side of the table had soup in it, and a wonderful friend made a yummy salad for the other side of the table.
the costumes:
I was Galinda from Wicked. two years ago I was Elphaba, and decided to carry on the wicked tradition. unfortunately, people thought I was either the fairy god mother or a beauty queen. I guess Galinda needs an unnaturally colored face to be recognizable.
DJ bought a pig nose and a thermometer and was going to be swine flu. I thought it was super creative. we couldn't find the thermometer, and after running errands for the party, he didn't have time to properly affix the pig nose, so instead he was a super attractive husband. that's better anyway. :)
the little animals:
how mack started to feel about half way through:
...until we brought out the cake. he went crazy.
notice the first three pictures: 1. testing. 2. yay! this stuff is good! 3. more, please! (the fist in the hand is his version of the sign for "more"). also, notice how he plunged his sippy cup into the cake. yum.
the hat was made by carlee. check out the link. she sells lots of cool stuff.
how much did he eat, you ask? one third. that's 1/3 for those of you who need to see it in numbers.
nearly half
of a double layer cake. yup, I think he liked it. and, he took a nice long nap after, and slept really well that night. maybe I should give him his own giant cake more often.
all in all, I think it was a success. thanks to everyone who came, helped, and made mack's birthday special!

November 1st
a few pictures from mack's one year photo shoot:
dear mr. mackers,
happy birthday little guy.
I can't believe you've been mine for one entire year. you will never understand how you have made me better in every way (a little crazier too, but one has to take what they can get, you know). we love you more than you will ever understand until you have a child of your own. I hope you can put up with all of our idiosyncrasies and be proud to call us your parents.
I love watching you discover life every day. I love listening to and watching you figure out your words. every time a word escapes your little mouth or a sign comes from your little hands, my heart melts just a little bit. I love how proud you are of yourself when you realize what you've done. I'm proud of you too.
I love how excited you get to see daddy when he comes home, and I love how you still need me when you're sad or hurt. I hope that never changes, and you will always come to us when your sad or hurt and need a little comfort.
I love watching you scoot around the house. it's unconventional, inventive, and so smart. who wouldn't want to travel around on their bum all day? you have one-upped us all.
I love listening to you pound out your original compositions on the piano. I love that you love it--you have definitely inherited your mommy and daddy's love for all things musical. I know you won't believe it when you're older, but you already sing to us. you sing in the car, you sing in your crib, you match whatever tone comes out of our mouth. I think you're a musical genius; we have a progeny on our hands! oh, and by the way, if you end up hating all things musical, that's okay too. :)
I love that you have a little will of your own, and you quietly (or not so quietly sometimes) make it known. I hope you will always stand up for what you believe in... it would be all right if you don't scream it at everyone through the rest of your life though. just sayin'.
I love how you find humor in the simplest things. I love how you laugh at me when I'm crying. it makes the hard moments a little easier. you make me laugh every day.
I love how shy and cuddly you are. even though it can be taxing at times, I love that you want to cuddle up to me whenever you can.
I love how you remind me of the important things in life. you mean the world to me.
little man, I'm so proud to call myself your mommy. I love you to the moon and back.
happy birthday.
love, mommy